An Auto Title Loan Allowed This Mother in Miami to Give Her Children Gifts This Christmas
December 21, 2016

Christmas is many people's favorite time of the year. Therefore, most people gather with their family to share special food and presents, building beautiful memories that can last forever. However, this particular celebration requires a bigger budget than usual to buy presents, food, drinks, clothes, ornaments, and more. Now imagine how devastating losing your job during the holidays can be, especially if you have children. This homeowner had planned everything for Christmas and was waiting for her annual Christmas bonus to buy her children's gifts. Unfortunately, she received the shocking news that the company where she worked was closing.
She felt awful since she was no longer able to carry out her plans for the holidays, and she didn't have the money to buy her children's Christmas gifts. Despite this situation, she was determined to get her children's Christmas presents and decided to borrow money against her home. Fortunately, she saw a friend's post on Facebook before taking any actions. The post was about how an
auto title loan in Miami
allowed people to borrow against their car. She immediately visited our website and felt confident about our services after reading the testimonials.
While doing research about our company, she found out that she would be able to keep driving her car while paying back the loan, which was very convenient for her. This benefit motivated her to begin the application process by filling out the form on our website. She was surprised when she received a call from one of our specialists in auto title loans shortly after she had completed the yellow form. During the call, she agreed on a date to have a meeting at our office, and she was asked to bring her car, its title, and some easy-to-get documents. The customer asked if no credit report was required, and our expert clarified that neither her credit history nor financial situation were considered for a loan approval at our company, as our loans are based on the value of our clients' cars. This information made the mother feel at ease.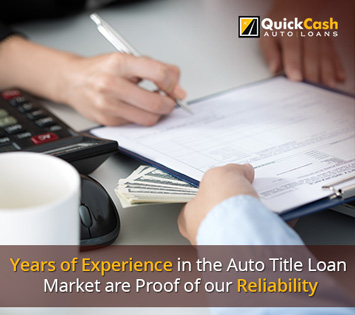 When the day of the appointment arrived, the customer submitted the requested documentation at our office and her car was assessed to determine the amount of the loan, which could be up to 50% of the equity in her car. The loan specialist explained to her that she had twelve months to pay the loan in monthly installments, but if she wanted to pay it before that time was over, there would be no extra penalties involved. The expert also stated that the interest rate for the whole year depended on the amount of the loan, which would be divided into monthly installments that could be as low as 1.50%, depending on the loan amount.
After agreeing to the terms and conditions, the mother walked out with the money that same day and thanked the team for such an efficient service. She was surprised by how fast the whole process had been and said that she was going to recommend our auto title loan service to anyone who needed it. She happily drove away with the solution to her troubles in her hands. Some days later, the customer left a testimonial on our website thanking the team for such personalized attention and for answering all her questions. She mentioned that she had already bought her children's presents and everything else she needed to complete her Christmas celebration.
At Quick Cash Auto Loans, we are happy to help anyone in need of extra money with our auto title loans. Years of experience in the Miami auto title loan market are proof of our dedication and reliability to fulfill your money needs anytime. Just by owning a car and its title, you can be eligible for a loan approval with us.
If you live in Miami, have a car for personal use, and need extra money, Quick Cash Auto Loans is perfect for you! We can lend you up to $25,000. Just fill out the form on this page. Our specialists will immediately contact you to set up an appointment, where your car will be assessed and the amount of the loan will be set – that's it! Get the money you need with us. For more information about our services, fill out the form on this page, or call
(786) 600-3411
and start your application process today! Our assessors will gladly help you. Find us on
Facebook at Quick Cash Auto Loans
, and follow us on
Twitter @QCashAutoLoans
and
Instagram @QuickCashAutoLoans
.