Are You Ready for Hurricane Season? Our Miami Auto Title Loans Can Help You Prepare Your Home on time
August 01, 2017

A home is one of the first references of protection. From an early age, we sense that having a roof over our heads is imperative to feeling calm at the end of the day. This is why keeping our homes in good condition is crucial for families' safety and well-being. This awareness of protection increases in places with harsh weather conditions, like those that experience the hurricane season year after year. It is well known that hurricanes have massive destructive power. Nobody wants to get in the way of these devastating phenomena. Fortunately, there are ways to prevent damage to homes when a hurricane hits. That was the case of these parents from Miami who wanted to protect their family and their property from suffering any damage during hurricane season. Just before the season started, the parents would inspect the whole house to make sure it was safe enough to handle the weather. During their regular yearly inspection, the parents found out that their roof and rain gutters needed a touch up. The problem was that they didn't have enough money to have it done. They felt relieved after finding a fast alternative solution—our
Miami auto title loans
.
Client's background
This married couple had bought this house years ago. They loved the structure, layout, materials, location… everything! Unfortunately, it had deteriorated over time. Every year, the family used to follow a safety protocol to protect their property during hurricane season. By that time, they had done everything they could to preserve the house. The family would clean the lawn to prevent flying objects from smashing the windows during a wind storm, such as patio furniture, toys, and others. They would also prevent the commonly unexpected power surges during a storm, for which they had bought power surge protectors for their appliances. They had enough plywood to cover windows and doors, preventing storm debris from breaking them. The father used caulk to seal windows and doors, as well as repair cracks and holes around the house. This way, they would stop water from getting in. However, they needed to invest money in their roof and replace their rain gutters.
A fortunate encounter!
The couple didn't have the money at the moment. They thought that borrowing money against their home was their only way out of this situation. Luckily, their best friend told them about Quick Cash Auto Loans—a consumer finance company that grants auto title loans in Miami, allowing clients to keep their car while paying back the loan. The friend said he had borrowed money at our company before and that the whole process had been very simple and quick. He also said that our agents are very kind and effective and that they had helped him throughout the whole loan process. The couple decided to visit our website and look for further information about our service. That same day, after reading some testimonials left by former satisfied customers, the couple filled out our online form and submitted some basic information about them and their car.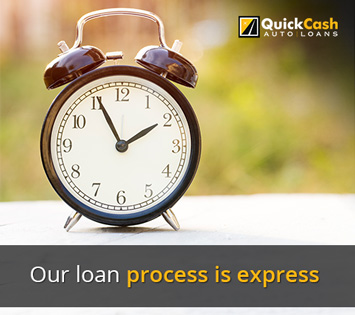 Help is on the way!
Almost immediately, they received a phone call from one of our loan agents. The specialists wanted to schedule an appointment at our Miami loan office. Still doubtful, the couple said they had some questions about the whole process. Our expert said it was perfectly normal since it was the first time they had heard about our service. The parents felt relieved knowing they would get all the answers they needed.
Getting answers!
The first question had to do with the time the process would take since hurricane season was around the corner. The agent affirmed that we understand our clients' urgency for extra money. For that reason, our loan process is express! We waste no time in endless paperwork and long reviewing procedures. The couple felt happy to know they had found an immediate solution to their financial problem.
Keep driving your car!
Next, the couple showed their concern about their car. Our loan agent eased their worries by telling them that we never keep our clients' cars. Quick Cash Auto Loans places a lien on its title and as soon as the loan is completely paid, the lien is removed. Plus, the owners are always in possession of the vehicle. They can use the car as they used it before the loan. Our policy regarding this matter is having a clear title and that the client has a car for personal use.
No paperwork, no delays!
It all seemed very simple, however, paperwork is oftentimes the main obstacle when requesting a loan at banking institutions. Our clients had been in that situation before so they thought it was time to ask about the loan requirements. The agent told them that we only request a confirmation of the address and the client's current employment status. There's no need to struggle trying to find a long list of inaccessible documents.
Good credit, bad credit, no problem!
Another question the couple had was related to the credit history. They had a fair credit record, but their credit history would be considered poor at certain institutions. Our agent explained that we don't consider our clients' credit history when reviewing a loan request. That made the clients happy as it would raise their chances of receiving the money.
A fast process!
As they continued the conversation, they talked about the car's evaluation, which had to be made at our loan office. This evaluation would help determine the total value of the car, hence they could be able to establish the loan amount. The agent also told them that the evaluation is based on some variables, such as car condition, year, make, and model. Our loan specialist also explained to the clients that all our loans are payable in a twelve-month period. The loan amount is divided into installments, as well as the interest rate. When all the questions had been answered, they proceeded to set the appointment.
A happy outcome!
On the marked day, the couple drove their car to our office, along with the requested documents. As soon as the car was evaluated and the loan amount was set, the clients drove back home with the money they needed to keep their home and their family safe for another year.
This is just one example of our many successful loan outcomes. Our loan experts are always ready to help people like you with a fast and simple loan experience. We can help you borrow up to 50% of your car's value, regardless of your credit record. The best part is that you can keep using your car while paying back the loan. If you want to start your application process today, just fill out the form on this page or call
(786) 600-3411
. You can also find us on
Facebook as Quick Cash Auto Loans
, and follow us on
Twitter @QCashAutoLoans
and
Instagram @QuickCashAutoLoans
.