Auto Title Loans vs. Payday Loans: Learn the Difference
November 15, 2016

Finding alternative ways to get some extra money when you need it can sometimes be compared to practicing extreme sports, as the level of risk often seems too high for a positive and safe result. When people need money fast, they tend to look for all kinds of loans, without knowing the possible consequences that they might bring. Two of the most popular ways to get extra money are
auto title loans
and payday loans. But, are they the same or different? Let's look at some of their features to help you make an informed decision as to which is best for you.
Loan amount. At payday loan agencies, loan amounts regularly range from $100 to $1,000 depending on the state you live in and your monthly income, which must be at least $1,000 to apply for this kind of loan. On the other hand, since auto title loans are based on your car's value, most auto title loan agencies can lend you up to $25,000, depending on your car's make, model, and current condition. This value is established after the loan company has assessed your car.


Due dates. Most auto title loan companies give you up to 12 months to pay the loan back, dividing it into installments, with no prepayment penalty. In contrast, payday loan agencies will demand your payment by your next payday. It is important to mention that if you don't have funds in your bank account at the moment they charge the loan amount, an extra fee will be added to the total debt.


Collateral. Payday loan businesses will ask you for a check with the date of your next payday, which is when they will cash it in, so you need to be sure that you'll have the money in your bank account on the expected date to avoid extra fees. Yet, auto title loans allow people to borrow against their car's title, using it as collateral for the loan. Moreover, most car title loan agencies accept all makes and models, which increases your chances of getting a loan approval.


Requirements. To get a loan from most payday loan companies, it is necessary to have a fulltime job and be debt-free. Not meeting these requirements can really reduce your possibilities of getting a loan approval. Nevertheless, most car title loan agencies will just ask for some easy-to-get documents to check your personal information and your car's title.


Credit history. Most auto title loan companies will never take your credit score into consideration, no matter how much money you ask to borrow. However, payday loan companies will require your credit report for larger amounts of money to ensure that you can pay back the loan.


Time is crucial! Whether you apply for an auto title loan or a payday loan, you'll quickly get the money you need. The big difference lies in the fact that auto title loans give you more time to pay, and you'll be able to split up the loan into monthly payments. On the contrary, with payday loans, you'll have to make a single payment, usually two weeks after getting the money.


Interest rates. It is true that loan companies will charge interest rates regardless of the type of loan they grant. Nevertheless, payday loans will typically have an annual percentage rate (APR) of up to 400%. On the other hand, some auto title loan companies – like Quick Cash Auto Loans – charge an APR from 18% to 30% depending on the loan amount.


Monthly salary. While auto title loan companies' main requirement is owning a car and its title to consider your application, most payday loan agencies require a minimum monthly salary of $1,000, which can hurt your chances of getting a loan approval if you earn less than that amount.


One loan instead of multiple loans. Since payday loans are based on your salary, the amount you borrow can often be less than what you need, which can make you return for a new loan, increasing the interest rate. However, a car title loan is mostly based on your car's value. For that reason, a single loan might be enough for your current plans. A second auto title loan might be destined to a whole new project.


Reliability. Many payday loan agencies have earned a shady reputation, as their transactions have sometimes turned out to be scams. This reputation has made people refrain from turning to that kind of loan agencies, making auto title loans a more desirable option for people in need of extra money. In case you're looking for extra money and are thinking of getting a loan, it is necessary to do some research and choose a dependable company that can fulfill your loan needs and provide a reliable transaction.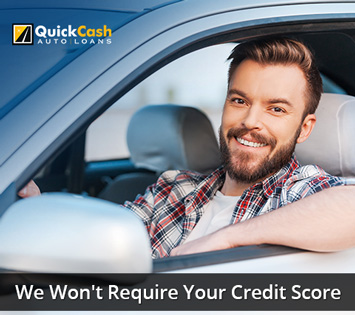 To sum up, making such an important decision requires you to deeply research the benefits of getting a specific type of loan, as there are many things you need to keep in mind – the amount of time to pay the loan, the application process, efficiency, how personalized the attention is, etc. Fortunately, consumers can turn to companies like Quick Cash Auto Loans when they need money. Our specialists are ready to provide our customers with immediate, personalized attention, aiming to fulfill your need for car title loans.
We accept all makes and models, and we base all our loans on the value of your car. So, anyone who owns a car for personal use is welcome to apply. Get up to $25,000 to spend any way you want, with a very low chance of loan application refusal. Also, we won't require your credit score, so don't worry if you have bad credit or no credit at all.
Forget about endless paperwork, our application process is very simple and fast. Just fill out the application form, and our specialists will contact you right away. After, get your car assessed and submit some easy-to-get documents at our office, and that's it! You can walk out with the money you need. And the best part is that you get to continue using your car while paying the loan back in a twelve-month period.
For further information, please fill out the application form on this page or call
(786) 600-3411
. Our experts look forward to assisting you. Find us on
Facebook at Quick Cash Auto Loans
, and follow us on
Twitter @QCashAutoLoans
and
Instagram @QuickCashAutoLoans
.