Benefits of Miami Title Loans: How These Parents Planned a Great Graduation Party for Their Son
May 18, 2017

Graduating high school is one of those moments that people remember for years to come, marking one of the first big achievements in a young adult's life. Most people like to celebrate this occasion by throwing a party with friends and family. The downside is that these parties are expensive so normally parents end up having a small gathering or dinner celebration. But our clients, a couple from Miami, were extremely proud of their son's achievements. He had not only been accepted into the university of his choice but also managed to land a full scholarship thanks to his outstanding grades and his football abilities. They had been secretly planning to throw him a party to celebrate his graduation and send him off to college with great memories.
Their main problem was they had run out of money and still had not booked a decent DJ for the party. This was crucial—no party is a real celebration without great music. To solve this dilemma they thought they could pawn something, but they didn't have many valuable possessions. They thought of their car, but they depended on it for commuting to work. They were about to give up on the whole idea of the party when one of their friends suggested getting a loan against the title of their car, which could quickly provide them with the money they needed without having to give the car up. Their friends said he knew of a reliable
Miami title loan
company that would be perfect for them: Quick Cash Auto Loans.
They decided to Google the company to review its credentials and find out about the requirements and steps to get a car title loan. They were pleasantly surprised to read it wasn't complicated at all.
Keep your Car!
The first thing they noticed was that, as their friend had mentioned, even though they were borrowing against the car's title, they would be able to keep driving the car while paying back the loan. This made a huge difference and they wanted to know more about the loan process to see if they could go through it.
No Credit History Required
Another thing they were happy about was that they didn't need to worry about their credit history. Since they were using their car as collateral for the loan, all that mattered was that they owned the car and its title. This was a relief because, even though they had a decent credit history, it would not have been high enough if they tried with a bank or another financial institution.
Stress-Free Loan Process
The part that absolutely sold them on using Quick Cash Auto Loans to get their loan was how comfortable and easy the whole process is. All they needed to do was fill out a short online form, after which they would be contacted by one of the company's loan experts, who would then ask a few questions and verify some information. After that, they would just need to go to the company's main office with some easily accessible documents, have their car assessed by a specialist, and then they would be able to drive back home with the money —which could be up to 50% of their car's value. Simple, comfortable, and fast.
Comfortable Payment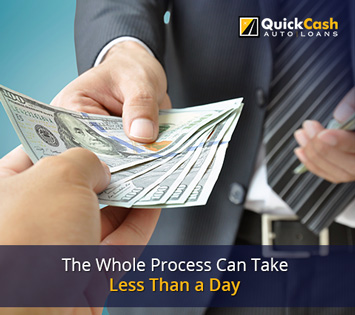 Seeing that the loan could be paid back comfortably over a period of twelve months —in which both the loan and the interest rate are included—, they finally decided to go through with the loan to get the funds they needed to finalize the party plans.
The whole process took less than a day. They filled out the form, were contacted by the team at Quick Cash Auto Loans, drove the car in for the assessment, and they were done. They drove back home with the money while thinking how this was the most stress-free loan process they had ever gone through.
Some time later, one of our loan experts received an email from the couple. Thanks to the loan, they were able to throw an awesome party for their son. They thanked the team at Quick Cash Auto Loans for helping them come up with the funds they needed to make this celebration memorable for their son before he parted for college.
Here at Quick Cash Auto Loans we love knowing how we contribute to our clients' lives by helping them fund the things they need to reach their goals, whether they are boosting their business or creating great memories.
If you are short on cash, own a car, and are looking for a loan, our team is ready to offer you the simplest and quickest option. Contact us by filling out our
contact form
or by calling our offices at
(786) 600-3411
. You can also find us on
Facebook as Quick Cash Auto Loans
and follow us on
Twitter @QCashAutoLoans
and
Instagram @QuickCashAutoLoans
.