Discover How This Business Owner in Miami Saved His Profits Thanks to Our Auto Title Loans
September 30, 2017
Business owners know that keeping their business facility in tip-top shape is crucial for success. That is why following a preventive maintenance routine is key to keeping your business running. Nevertheless, life can throw unexpected situations at us. For example, imagine having two or more crucial pieces of equipment breaking down at the same time. Now, imagine that this happens and you don't have enough money saved to fix both. When these kinds of events happen, business owners need to think outside-the-box to find a solution that fits their needs, and that's when finding the right provider of
auto title loans in Miami
comes in handy.
Almost any business owner would tell you that taking care of business assets, like machinery or appliances, is vital for success. These assets can help you drive profits. Owners, however, often get caught up in the day-to-day obligations of running a business and neglect the necessary maintenance that these assets need. This can ultimately result in appliances and equipment breaking down, which can cause problems and delays for their customers. Unexpected equipment breakdowns can even happen despite your efforts to keep them in working order.
When these types of events happen, business owners need to be resourceful and have the funds to promptly remedy problems and cover unexpected expenses so their businesses can resume operations and avoid losing profit. Unfortunately, when it comes to solvency, small businesses are often more vulnerable to unexpected budget setbacks, which means that it can take them longer to remedy a broken-down appliance and resume operations—all while falling into a downward spiral of profit loss. In these situations, business owners must draw upon their resources and find quick and efficient financial solutions to cover unexpected expenses.
This butcher's shop owner knows all too well how a series of appliance malfunctions can threaten the stability of a small business. Within the span of a few days, two of his most vital appliances broke down, and he found himself unable to cover the second one. First, the air conditioner went out. Then, just a few days after fixing the air conditioner, his largest fridge broke down. This was a much more serious problem, since it threatened to spoil his product and his bottom line. Though it was crucial for him to get the fridge functioning as soon as possible, the owner had spent his savings fixing the air conditioner.
As a business man, he knew he had to come up with a clever and fast solution that didn't compromise his monthly income. He didn't want to jeopardize his home either, so he decided against taking out a mortgage. The owner needed his car to commute every day, so pawning it was not an option. He considered getting a loan from the bank, but he knew from experience that bank loans can take months, if not longer, to get approved. He was running out of options, and the clock was ticking. Unfortunately, he thought he had no option but to sell his car. As much as he loved his SUV, he knew that by keeping his company afloat, he could buy a new one in the future.
He talked to his brother-in-law, who owns a car sales company. He told him to request an auto title loan instead. At first, the business owner didn't feel very good about the idea, so he did some research. He went online and looked for auto title loans in Miami and found Quick Cash Auto Loans among the top results. He visited our website and read some testimonials left by our satisfied clients. He was still skeptical, so he wrote down some questions, filled out and submitted our online form, and waited for a phone call or email. He was surprised when one of our loan experts contacted him shortly after submitting the form.
As soon as the agent confirmed the information the owner had sent, the business owner started asking questions. It seemed as if he were trying to find a reason not to continue with the loan process. Here are the questions he asked.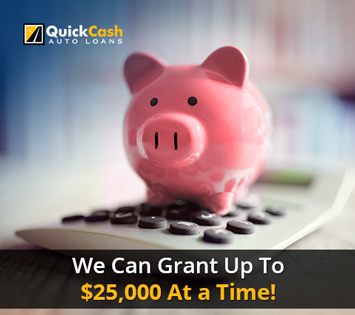 How much money can a person receive?
The business owner was used to being straight forward in his business conversations. The agent told him that we base all of our loans on the value of our clients' cars. Our policy states that we lend up to half of the total equity in the car. The owner then rephrased his question–What is the maximum amount you can lend? The agent told him we can grant up to $25,000 at a time. Then the agent added that as soon as a client pays the total amount of a loan, he or she can request a new loan on the same car. The client was satisfied, but he had more questions.
How do you know if a person is eligible for a loan?
The agent explained that any person who owns a car for private use and its clear title can be eligible for loan approval. Also, our company doesn't take our clients' credit history into consideration when reviewing loan applications. The client then asked his next question.
What are the requirements for getting a loan?
Our loan expert told him that we just needed to confirm his address and employment status, which can be quickly verified through easily accessible documents. The agent emphasized that we understand that most of our clients have busy schedules, so we strive to offer a fast and simple loan process. The client continued asking questions.
What is the loan process?
The agent explained that the first step is to fill out the online form on our website. Then, clients schedule an appointment at our loan office to evaluate their car and discuss the terms and conditions of the loan. After assessing the value of the vehicle, the amount of the loan is set and that's it! You can receive the money you requested that same day. The loan specialist added that we accept all makes and models as long as the car is for private use. The business owner then posed his next question.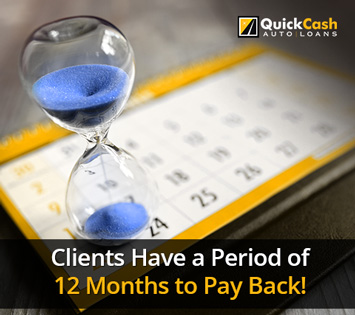 When do clients have to pay back the loan?
Our agent told him that clients have a period of 12 months to pay back the entire amount of the loan. However, people can pay any time before the due date without any penalties. The client had one final question before deciding.
Are there any conditions on the use of the loan?
Our specialist stated that we never check our clients' financial situation. Therefore, they can use the loan as they please. We've learned that some clients have used it to pay for a vacation, tuition, medical bills, and even to fix their homes. It all depends on the specific financial help they need.
After getting the answers he had been looking for, the business owner decided to continue with the auto title loan process and scheduled an appointment with the agent.
On the day of the appointment, the business owner drove his car to our office, where it was evaluated while he discussed the terms and conditions of the loan with the agent. He received the loan that same day and drove back home in his car.
A few days later, the man contacted our agent to thank our company for the quick financial help. He told us that he was able fix the fridge without losing revenue thanks to our quick loan approval process. He also said our loan agent had been very patient, kind, and knowledgeable when answering his questions.
This success story is just one example of our clients getting the extra cash they need. Our company takes great pride in helping people like you every day by providing the fastest and simplest access to loans with a low risk of being denied.
If you need extra money to go on a vacation, satisfy your cravings, or achieve new goals, Quick Cash Auto Loans is perfect for you. Get an auto title loan and continue driving your car while you pay for it. Call us at
(786) 600-3411
or fill out the form on our website. Find us on
Facebook as Quick Cash Auto Loans
, and follow us on
Twitter @QCashAutoLoans
and
Instagram @QuickCashAutoLoans
.