Found a New Job in Miami Beach and Need to Relocate? Our Car Title Loans Might Be the Right Solution for You!
June 19, 2017

Moving can be a considerably stressful situation. You may find yourself lost in the planning, logistics, and expenses. It can also mean the beginning of a new adventure filled with great experiences. It's true that moving involves finding a reliable truck rental company, building a new support network, and finding the money to pay for a new place. But it's true that you'll learn many new things from this experience. That was the case of this young professional from Kendall, FL, who had been offered a great job in Miami Beach but didn't have the money to pay the security deposit to rent a new place to live. Fortunately, she found the solution before having to reject the offer.
A young woman from Kendall was looking to improve her professional skills and build a strong resume. That's why she had been constantly searching for job openings that could further her career. She had told her grandmother that she was willing to move if the job was good enough. One day, she found just what she had been looking for—a great job opportunity that could definitely launch her professional career. She was very excited. Filled with expectation, she began planning her transfer. First, she called one of her best friends to ask her if she could stay with her while she looked for a nice place to rent; the woman didn't want a long-term lease until she was in a more stable situation. After moving to her friend's house, the woman found a nice, cozy apartment with a beautiful view available for rent. The problem is that after having paid for storage for her furniture back home, she was then short on money. She didn't have enough to pay the rental truck to move the furniture and the security deposit the landlady had asked for. She immediately thought of selling her car but her friend advised her to borrow against her car's title. She and her friend went online and looked for agencies offering
car title loans near Miami Beach
.
The friend explained how her brother received auto title loans more than once and it had been an effective solution every single time. The young woman needed money quickly so she was hoping that the suggested solution would comply. While searching online, she found Quick Cash Auto Loans among the first results and the customer decided to visit our website. The woman grew confident in the company as she read the testimonials left by former satisfied customers. Therefore, she browsed the website for more information and she liked what she read.
Most people think of banks when they think of a loan. However, asking for a loan at banking institutions comprise of long application processes, endless paperwork, and evidence of having good credit history. Our client couldn't afford wasting time on such protocols because she needed the money as soon as possible and she wouldn't have qualified either given her poor credit history, though she has always been very responsible with her finances.
Credit history
It was no surprise that the first thing that interested her was our policy regarding credit history. At Quick Cash Auto Loans, we are a consumer finance company that aims to help people solve their financial troubles regardless of their credit history. Whether our clients have good, bad, or no credit at all, we don't consider their credit reports for loan approval.
Keep your car
The client was pleased to know that our auto title loans would let her keep driving her car while paying back the loan. All our customers have a period of twelve months to pay back the loan, which is divided in installments as well as the interest rate. During this period, the clients can continue using their car as they normally would. This policy was very convenient for the young woman as she was planning to use her vehicle to commute to work every day.
Fast process
Our loan process is very fast and simple. Just by filling out the online form on our website, any person can get in contact with our loan specialists, who guide our clients throughout the entire process. We base our loans on the equity in our clients' vehicles. As long as they have a car for personal use and its title, anyone is eligible for a loan approval—that easy, without complicated procedures and long paperwork. Just by submitting some easily accessible documents and taking the car to our office for an evaluation, our clients can get the money that same day.
Loan amount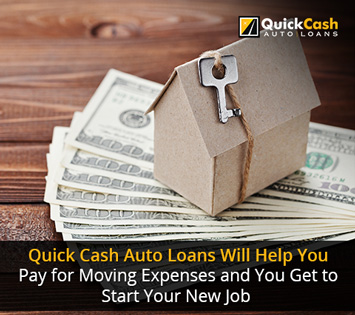 Another policy that really caught this client's attention was the loan amount. It was interesting for her to find out that our specialists determine the loan amount based on the total value of the car after the evaluation at our office. In this evaluation, the experts base their results on the year, make, model, and condition of the car. After, the loan agent sets the maximum loan amount we can lend to the client, which is 50% of the total value of the car and as high as $25,000. Finally, the client can make an informed decision on the loan amount he or she needs and walk out with the money.
Getting the loan
The client decided to fill out the form on our website. As soon as she submitted the form, the information she had read was confirmed when one of our loan agents contacted her shortly after. The agent and the client immediately arranged an appointment at our loan office to assess the car and submit the easily accessible documents. That same day, after setting the value of the car and agreeing to the terms and conditions, the client received the money she needed to pay the first month's rent and the security deposit for her new apartment.
Overall results
Some days had passed when the customer contacted our agent to thank her for the fast and efficient service; she was already living in her new home thanks to our quick loan process. The client also said she would recommend our services to anyone in need of extra money.
At Quick Cash Auto Loans, we understand the urgency our clients have to solve their financial troubles. For this reason, our loan specialists are always ready to provide our customers with fast and simple loan processes.
This is just one example of how an auto title loan can help you. Our loan experts help you borrow up to 50% of your car's value, regardless of credit history. The best part is that you can keep using your car while paying back the loan. If you want to start the application process today, just fill out the form on this page or call
(786) 600-3411
. You can also find us on
Facebook as Quick Cash Auto Loans
, and follow us on
Twitter @QCashAutoLoans
and
Instagram @QuickCashAutoLoans
.