How a Young Miami Professional Solved His Gambling Debts with a Car Title Loan from Quick Cash Auto Loans
December 14, 2016

People can lose sense of reality when travelling. As tourists, they want to do all kinds of fun and typical activities when they visit a new city. This happened to a young professional from Miami who went on vacation to Las Vegas and gambled all his money away. At first, he had a cautious attitude and bet small amounts of money. However, he started raising his bets even though he was losing money. Before he knew it, he was absorbed in this exciting activity for the whole weekend.
He only became aware of the amount of money he had lost when he was going to check out from the hotel. Luckily, his friends were there to help! One of them paid the hotel and bought him a ticket back to Miami. Just imagine how embarrassed he felt; he decided to look for a solution as soon as he got back home. The young man told a friend that he was going to sell his car to pay his bills and cover his living expenses for the next months, but his friend recommended him to look for a
Miami car title loan
company instead.
Our customer browsed the web right away and found Quick Cash Auto Loans among the top options. He visited our website and did some deeper research, finding out that our company has been in the consumer finance market for years, helping people – like himself – who need extra money. The client found that car title loans offered many benefits that could help him get out of financial trouble, but the most impressive benefit was that he could keep his car for personal use while paying back the loan, which was very important for him, as he lived far from work.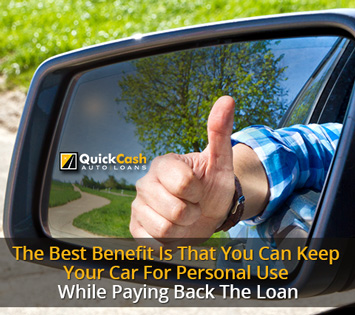 After deciding that our company perfectly suited his needs, the customer filled out the application form on our website and got a phone call from our team of loan specialists right after. The client was surprised by how easy and fast the process had been. Our experts verified some personal information with the client and requested some easy-to-get documents, which he needed to bring to our office together with his car on the day of the appointment. Once that day arrived, the customer drove off to our office with his documents and his car's title.
As soon as he got there, our team assessed the client's car to discuss the amount of the loan, as well as the terms and conditions. Our company allowed the client to get up to 50% of the equity in his car that same day, giving him a twelve-month period to pay back the loan in monthly installments, with no pre-payment penalties. He expressed how happy and relieved he was, as the amount of the loan was enough to cover his bills, rent, and groceries for the following months. The customer said that he was amazed by how easy the process had been and thanked our team for being helpful and understanding.
If you live in Miami, own a car for personal use, and need extra money, Quick Cash Auto Loans is perfect for you! We can lend you up to $25,000 based on the equity in your car. Just fill out the form on this page and our specialists will immediately contact you to set up an appointment at our office, where your car will be assessed and the amount of the loan will be set – that's it! Get the money you need with us. For more information about our services, fill out the form below, or call
(786) 600-3411
and start your application process today! Our assessors will gladly help you. Find us on
Facebook at Quick Cash Auto Loans
, and follow us on
Twitter @QCashAutoLoans
and
Instagram @QuickCashAutoLoans
.