In Just One Day, This Miami Small Investor Could Seize a Great Business Opportunity Thanks to an Auto Title Loan Service
May 31, 2017

As children, we dream about what we want to be when we grow up. As we grow older, we define our preferences and better prepare ourselves to develop a way of life and a career. As adults, some people become employees at big companies and want to build their reputation and a professional career in their field. Meanwhile, others want to be their own boss and work hard to start their own business. That was the case of a Miami resident who had invested in different businesses, which hadn't been very successful. He kept on searching and had finally found a good opportunity, but didn't have the money to close the deal. Fortunately, he was soon to learn about the easiest way to get cash.
Setting the client's background:
A young man from Miami had always dreamed of becoming a business person. He didn't want to have a boss and work towards someone else's dream; he wanted to make his own dream come true. With that in mind, he went to college and studied business administration and economics. After graduating, he invested all his money in small businesses that hadn't given him as much money as he had expected. He was then offered a business opportunity to invest some money in a growing technology-related business that had become very profitable. The problem was that he was out of money. His best friend and business partner told him about a fast
auto title loan service in Miami
, offered by a company called Quick Cash Auto Loans.
Loan application:
The man visited our website and decided to try out the process so he filled out our online form. He thought it was too simple to be true. Still feeling a little skeptical, the man completed the form with his personal information and how much he was hoping to borrow. After submitting the form, he continued browsing our website to learn more about our policies. He soon received a phone call from one of our agents to verify his information and schedule an appointment.
Finding answers:
When the loan expert called, the man was prepared to ask questions. He wanted to confirm all the information he read on the website. The first question had to do with the loan amount. The agent kindly explained that we can lend up to $25,000 and that this amount is based on the 50% of the car's value. The client felt relieved as he wanted a decent amount of money –not too high, not too low– to make the first investment and continue investing from the profit. The next question was concerning the car. He told the agent that it was his main mean of transportation and that he wanted to ensure he would be able to keep it, given that his loan application was approved. The agent said that it was completely true –all our customers are allowed to use their car while paying back the loan.
The client also asked about the time limit to pay the money. The agent explained to him that we give a period of twelve months to pay the loan, which is divided in installments, as is the interest rate. The expert also told him that even though the time limit is twelve months, clients can pay the entire amount earlier without having to pay any prepayment penalty.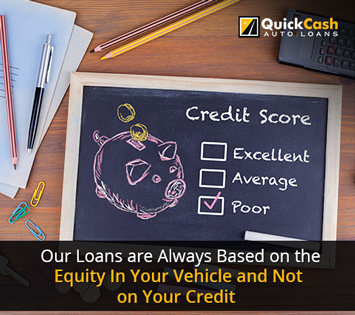 It was time to ask about credit history, which had also caught this businessman's eye. Our specialist explained that since all our loans are based on the equity in the customer's car, credit history is not relevant when reviewing the application. Therefore, if the client has good, bad, or no credit history, he or she still has a high chance of approval. The man was satisfied with the information, so they continued to the next step.
Our loan process:
The customer and the agent set an appointment at our office. He was asked to drive his car to the office and bring some easily accessible documents. After setting the loan amount and agreeing to the terms and conditions, the loan agent handed the money to the client. Just like that! He couldn't believe it had been so simple.
The outcome of our auto title loan service:
Some days later, the client contacted our agent to thank her for the great service. He said that we had granted him the loan in perfect timing to invest in his new project. He was very excited about it and said that he would recommend our service to anyone in need of extra money.
This is just one example of a successful outcome. At Quick Cash Auto Loans, we are happy to help people like this entrepreneur fulfill his dreams.
If you live in Miami, Florida and are looking for a solution to obtain cash quickly, then we can help you. Quick Cash Auto Loans offers you a prime auto title loan service in Miami, dedicated to helping customers get the car title loan they deserve, without any exhausting or frustrating procedures. Contact us by filling out the form on this page or by calling
(786) 600-3411
. Find us on
Facebook as Quick Cash Auto Loans
, and follow us on
Twitter @QCashAutoLoans
and
Instagram @QuickCashAutoLoans
, and get ready to get cash from your car title!