Learn How an Auto Title Loan Brought a Miami Resident Closer to Her Family
April 20, 2017

Princess Diana once said, "family is the most important thing in the world." This expression was true for this Miami resident, who grew up in a small, loving family. She was the younger of two sisters. They had been very close their whole lives. Some years ago, the younger sister had to move to Florida because of her job. However, she kept in touch with her family, especially since she had found out that her sister was pregnant. She was thrilled at the idea of becoming an aunt and wanted to be with her sister for the delivery. Of course, original plans don't always turn out the way we expect them to. The baby was born before the expected due date and the new aunt didn't have the money to travel on such short notice.
If you have been away from your family, you understand the urgency of this woman to be with her sister and her newborn nephew. Ever since she received the phone call from her mother, she had had mixed feelings about the news. She was excited about the new member of the family, but at the same time, she felt sad and stressed for not being there with her loved ones on such an important day. Even though her sister reassured her everything would be okay, her anxiety became evident to her roommate as soon as she arrived home that day. The woman explained her situation and her friend said there was nothing to worry about –she knew the quickest way to get the money the woman needed. Her roommate went online and showed her our website. She described us as a reliable company that offers fast
auto title loans in Miami
, where she had borrowed money against her car's title on several occasions.
The woman was doubtful; the whole idea was new to her. She had never borrowed money against any of her possessions and she only knew two ways of getting loans–banks and pawnshops. Her friend eased her worries by answering her questions and telling her that she would help her throughout the process.
Auto title loans
The young woman started by asking what auto title loans were. Her roommate explained that it's a service provided by Quick Cash Auto Loans. It consists of borrowing money against a person's car title instead of using their credit score. She mentioned that our loans are fast and easy to acquire and that there is a low risk of loan refusal–as long as the customer has a car for personal use and its title, she or he can get approved. The younger sister wanted to clear up the part about credit scores. Her friend told her that it wasn't necessary to have a good or any credit history to be eligible for a loan approval.
Keep using your car
The second question involved the use of her car while paying back the loan. The client was concerned about leaving her car with the loan company once she got the loan. Her roommate was emphatic that she wouldn't have to give up her car in the case of receiving a loan with our company. She explained that one of our most attractive policies was being able to drive the vehicle while paying back the loan. In fact, her roommate said that she was paying off a loan herself and was still able to use her car everyday. This information was useful and a relief, as our customer's car was her most valuable possession.
Maximum loan amount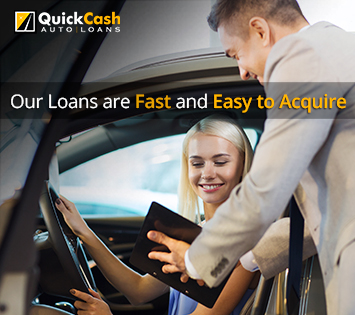 Her roommate also told her about the amount she could borrow. As mentioned before, the loan and its amount are conditioned by the ownership of a car and its title. She said that we lend up to $25,000 based on 50% of the car's value. The equity in the car is determined by our agents after assessing the car at our office.
Our client's roommate said she would only have to complete three simple steps and she'd be getting the money she needed to go see her sister and nephew.
Fill out the form on our website.
Get in touch with our agent.
Go to our office to have the car assessed, set the amount of the loan, and get the money.
Worried about how long it would take, the woman asked how much time the process would take. Her roommate said that it could take as little as an hour once everything was cleared during the scheduled appointment. It was all very simple and fast. She also added that the few required documents needed for the appointment were easy to obtain.
Paying back the loan
The client wanted to be as informed as possible before making a decision. Therefore, her next question involved the amount of time you're given to pay off the loan. Her roommate pointed out that our policy regarding payment was fairly comfortable. She explained that we grant a twelve-month period to pay back the loan. The whole amount is divided into installments, as well as the interest rate, which takes a lot of stress off your shoulders. Plus, if you have the money before the twelve months, you're allowed to pay it completely without a prepayment penalty. The friend also said that our company doesn't take your financial situation into consideration, so you can use the loan however you please.
After processing the information, the young woman decided to start her application process that same day. Following her friend's explanation, she began by filling out the form on our website. Right after sending the form, one of our agents contacted her to verify personal information and schedule an appointment at our office to assess the car and submit the required documents. It was all going exactly as described by her roommate and she was pleased by the quickness and simplicity of the process.
On the set date, she drove her car to our loan office in Miami to have it evaluated and determine its value. After agreeing to some terms and conditions, submitting the documents, and setting the amount of the loan, the woman was ready to get her money and drive back home and pack for her trip.
Some weeks after, the client got in touch with us and thanked us for the fast and easy solution we had granted her; our efficiency had allowed her to meet her nephew. The customer said that, if needed, she would ask for another loan from us and that she will be recommending us to anybody in need of quick financial help.
This is just one example of how an auto title loan can help you. Our loan experts are always ready to help you with a fast and simple loan process. We can help you borrow up to 50% of your car's value, regardless of your credit history. The best part is that you can keep using your car while paying back the loan. If you want to start your application process today, just fill out the form on this page or call
(786) 600-3411
. You can also find us on
Facebook as Quick Cash Auto Loans
, and follow us on
Twitter @QCashAutoLoans
and
Instagram @QuickCashAutoLoans
.