Learn How Auto Title Loans Can Help You Ease the Stress of Paying Medical Bills
August 12, 2016

How frequent are your visits to the doctor? Well, doctors recommend to get a general checkup at least once a year just to confirm that everything is OK, even if you feel healthy. However, we try to put off that visit as much as possible, avoiding the stress of paying medical bills.
Auto title loans
can help you pay those bills without stress.
But how can auto title loans help you with your medical bills? Let's take a look at the top benefits:
Fill the gaps in your income
Getting medical assistance can be difficult for some people. According to the World Health Organization, societal factors, such as social status, income, and education are determinants of access to health care. Fortunately, there are alternatives that may help close these social gaps. An auto title loan can help you get to that doctor's appointment. These loans allow you to borrow money against your car title to fill the gaps in your income by getting up to 50% of the total value of your car. You will be able to pay your medical bills now, while the loan can be paid over the course of twelve months.
Pay your pending medical bills on time
We've all experienced the stress of watching how bills pile up on our table. It sometimes seems that we just can't afford to pay the high prices of medical services, and the news can make us feel worse reporting how some people risk bankruptcy after paying exorbitant prices. However, what we actually can't afford is risking our family's health by delaying a doctor's appointment to the point of no return. A car title loan is a fast solution to get the money you need, so your family can get the health care services they deserve. Car title loans are based on the equity value in your vehicle, and the best part is that you will have the money to pay those medical bills and still drive your car.
Experience a fast and simple loan application process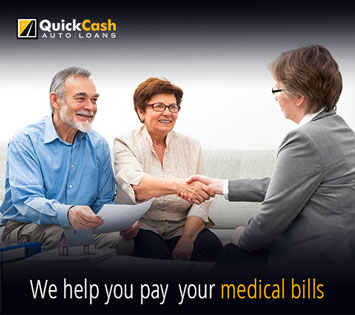 Getting health insurance seems to be the right way to ease the stress of pending medical bills. Nevertheless, access to the health care system can become a headache in some situations. Since the American population is so large – more than 324 million inhabitants in 2016, according to the United States Census Bureau – the health care system can take longer than expected to process an insured entrance to a medical facility. With a car title loan, you don't have to delay paying your medical bills, since they allow you to borrow against your car's title in a simple and fast way. All you need to do is fill out an application form and arrange an appointment to get your car inspected. Once the car is inspected and the amount of the loan is set, you will be ready to receive the money and get rid of those stressful debts.
A solution for everybody
On the other hand, we also have to consider that not all inhabitants of the US are necessarily Americans. Therefore, their legal situation might interfere with their access to health care services. Medical bills might be difficult to pay for an immigrant. However, there are always alternative solutions to get the health care services they deserve. Auto title loans are designed to help people regardless of their financial situation.
Going to the doctor for general checkups doesn't have to be a pipe dream for Americans. Avoid this stressful reality with our Miami auto title loans. Don't waste time with financial institutions that have long application processes. Quick Cash Auto Loans is the best solution to obtain money quickly and easily. No matter if you have good credit, bad credit, or no credit at all, any car owner is eligible for a loan approval. Just fill out the form on our website or call us at
(786) 600-3411
. We will be happy to assist you. Find us on
Facebook at Quick Cash Auto Loans
and follow us on
Twitter @QCashAutoLoans
.