Learn How This Single Mother from Miami Was Able to Pay Her Son's Medical Bills Thanks to Our Car Title Loans
July 19, 2017

How many people do you know that would do anything to preserve your life and your well-being? Most people can name only a few, and certainly, mothers are the first to come to mind for most people. Mothers gather all the strength they can when faced with a difficult situation. They can find a solution to any problem, just like this working mom from Miami. She lived with her 14-year-old son in an apartment and one day while she was at work, the mother got a phone call from her brother—her son had suffered an accident while skateboarding. The boy hit the ground with his head and broke his arm, and his uncle took him to the hospital immediately. As her son was recovering from the fall, a new concern was growing in his mother's mind. She didn't have the money to pay the medical bills. Fortunately, she was soon to learn that companies offering
car title loans in Miami
come in handy in such situations.
The situation: why this single mother needed our help
This single mother used to work long hours to make enough money for her and her son. She was very organized and used to budget every one of her expenses to fulfill her needs and make ends meet. She had a small apartment where she lived with her only child. Her son, an energetic teenager– was interested in skateboarding. He used to practice every day after school in a park near their home. On the day of the accident, the young boy was showing his uncle some new tricks. The mother was working when she learned about her son's accident. She immediately went to the hospital where her brother had taken the boy. After hearing that her son was okay, she became worried about the medical bills. The woman wasn't expecting this to happen, therefore, it wasn't within her budget. Not having the money available, the woman knew she needed a fast financial solution. Her brother, who worked in the automotive industry, told her about car title loans.
A wise idea: looking for a dependable company
At first, she was scared. In her mind, auto title loans meant pawning her car's title with all the conditions it carries: not being able to use her vehicle, the risk of losing it, interest rates that are impossible to pay, and more. The brother told her that borrowing against her car's title was a lot different from what she had thought. The woman decided to look for further information and maybe, give the title loans a try. She went online and looked for car title loans in Miami that allow you to keep your car. To her surprise, Quick Cash Auto Loans appeared more than once among the top results.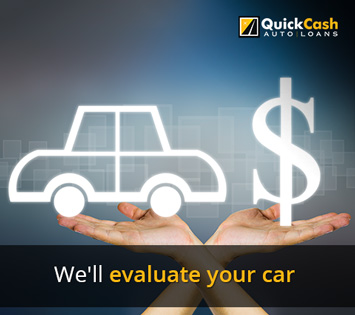 Loan application: choosing the right place
The customer, still a little skeptical, visited our website and browsed the testimonials and blog section. There she found the information she needed to make up her mind and apply for a car title loan. Our client filled out the form with some basic information about herself and her vehicle. Right after sending out her application, one of our loan experts contacted her. The agent briefly explained what our company is about—a consumer finance agency with a license to operate in the state of Florida. Our specialist also told the single mother that we're an alternative to those who need fast money and don't want to risk their properties with a mortgage or high-interest rate loans. Also, the agent affirmed that we accept almost any make and model. Therefore, anyone who owns a car for personal use and its clear title can apply for our loans. The woman felt much more confident knowing that the process would be fast and effective. They both proceeded to schedule an appointment at our office.
Loan process: getting the vehicle evaluation
On the marked day, the woman took her car to our office where it would be evaluated. The agent had explained to our client that the evaluation is done to determine the price of the vehicle. Once the value of the vehicle is established, the agent can set the amount of the loan; we base all our loans on 50% of the total equity in the car, with a maximum top of $25,000.
Paperwork: submitting the documents
That same day, the woman submitted some documents we requested. She remembered how concerned she was when the agent mentioned that it was necessary to submit some documents. She immediately thought she didn't have the time to gather them all (she had missed appointments at banks in the past for not having the endless list of documents they request for every administrative process). To her surprise, the list of requested documents for Quick Cash Auto Loans was very short. The woman only needed to confirm her address and her employment status. The agent confirmed that we don't take our clients' credit history into consideration when reviewing loan requests, which lowers the risk of refusal.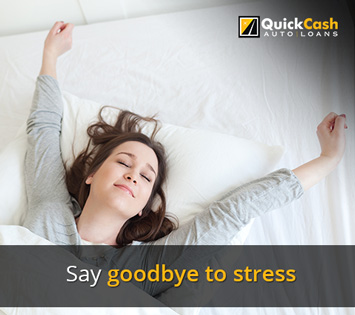 Close the deal: getting the loan
The loan specialist pointed out that our clients have a twelve-month period to pay back the loan in installments. Likewise, the interest rate is also divided into installments. The woman asked the agent what would happen if she forgot to pay an installment. The expert immediately eased her worries by saying they would have a constant communication so she would be informed before the due date. The expert also said that all our clients can pay the total amount of the loan at any time before the twelve months without any prepayment penalty. That same day, after agreeing to the terms and conditions, the client drove her car back home with the money she needed.
Overall results: the client's opinion
The woman later contacted our agent to thank us for such a great service. She said she was very happy because she had been able to pay the pending bills and make ends meet without any alteration in her budget, thanks to our quick financial solution. She even said she would recommend our service to any one in need of extra money.
This is just an example of the many positive outcomes of our car title loan service. Here at Quick Cash Auto Loans, we love knowing how we contribute to our clients' lives by easing their worries and helping them fulfill their financial responsibilities.
If you are short on cash, own a car, and are looking for a title loan, our team is ready to offer you the simplest and quickest option. Contact us by filling out our contact form or by calling our offices at
(786) 600-3411
. You can also find us on
Facebook as Quick Cash Auto Loans
, and follow us on
Twitter @QCashAutoLoans
and
Instagram @QuickCashAutoLoans
.