Need Extra Cash? An Auto Title Loan Could Be Your Solution
August 03, 2016

Taking some time off is necessary to recharge your batteries and live a healthy lifestyle. It is imperative to break the routine and relax, as it prevents stress. Moreover, preventing stress could even help you make smarter decisions. Nevertheless, leisure activities require planning and money. Therefore, it makes no sense to struggle by saving money, only to have a little time to relax. A car
title loan
can be your solution to avoid this uncomfortable contradiction.
About 62% of people don't take annual vacations either because of money or time. When people make budgets for a vacation, they need to include many items, from food to medication. The mere thought of organizing your expenses can turn your vacations into frustration and anxiety. Don't let money get in the way of your dreams, cravings, or needs. Get an auto title loan and treat yourself to the activities you've always wanted to experience.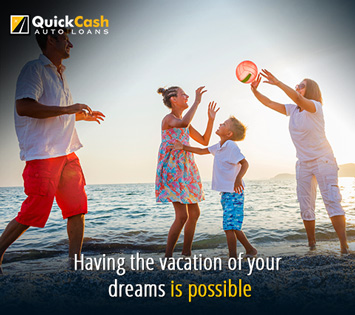 A car title loan is an easy and fast way to borrow money against your car's title and get the vacation you've been dreaming of. Even if you plan to travel by car, Quick Cash Auto Loans's auto title loans can suit you very well, since you get the loan and also get to continue using your car as you normally would. So, whether you bought a plane ticket or planned a road trip, don't worry about trading your car for the money. Enjoy your car and your vacation while you pay the installments.
The loan is set up to 50% of the equity in your car. Our agents consider the condition, make, and model of the vehicle, as well as its popularity, to assess it properly. All our appraisal results are based on Kelley Blue Book's pricing guides, a highly trusted reference when it comes to automobile pricing.
Getting an auto title loan is as easy as filling out the application form, having your car evaluated, and getting your check. You don't need to fill out endless forms and bring a long list of documents that are hard to get, nor will you wait for months to get an answer on your loan status. As soon as you apply, our assessors will contact you to set an appointment, evaluate your car, and give you the check with the agreed amount of money. After you get the loan, you will have 12 months to pay it with a monthly interest rate that can be as low as 1.50%.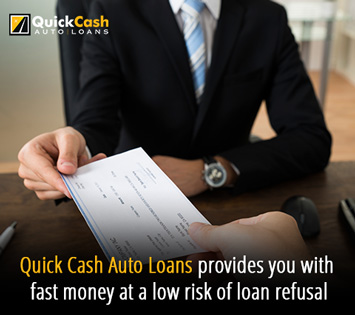 In the same vein of helping our clients, we offer a great variety of payment methods that range from checks to bank transfers. This allows customers to choose their preferred payment method according to their needs and lifestyle. On the other hand, since our loans are based on the equity value of the car, our client's credit history is not relevant to us. Any person is eligible for a loan approval as long as he or she owns a car and submits the required documents.
Quick Cash Auto Loans provides you with fast money at a low risk of loan refusal. We don't take credit history into consideration, so if you have bad credit, good credit, or no credit at all, you are eligible for approval. We are able to lend you $300 to $25,000, according to 50% of your vehicle's value and your needs. Even when your car title is necessary to get the loan, you can continue using the vehicle for the duration of the loan. Another benefit is that you have a maximum of 12 months to pay your loan. Nevertheless, you are able to pay it at any moment before the 12 months are over with no penalties.
If you need extra cash to go on a vacation, satisfy your cravings, or achieve new goals, Quick Cash Auto Loans is perfect for you. Get an auto title loan and continue driving your car while you pay for it. Call us at
(786) 600-3411
or fill out the form on our website. Find us on
Facebook at Quick Cash Auto Loans
, and on
Twitter @QCashAutoLoans
. Our specialists will gladly help you.