No Credit or Bad Credit? No Problem! Get an Auto Title Loan Today and Still Drive Your Car
July 27, 2016

There are several factors that can affect people's financial decisions and reality. One of the biggest influences on decision-making is emotions. The simple decision of purchasing an item can make people feel stress and even fear, before they ever reach the idea of being unable to make payments. These emotions along with difficult times and low income can lead people to make unrealistic budgets.
Many people struggle with active debts. They seem to find monthly obligations, like housing, transportation, health care, and insurance payments, challenging to fulfill, and stress can make a very bad financial advisor. Besides, unexpected debts could worsen the situation, resulting in despair. However, if you own a car, getting an auto title loan can get you closer to paying off your debts.
People in need of extra money may need to look for alternative financial solutions to get out of difficult circumstances. One of the first solutions they think of are credit cards. Nevertheless, everybody knows how difficult it is to maintain a good credit history to become eligible for approval by banking entities. In addition, we all know how important time is when it comes to paying debts, so a credit card application may not be the right path to follow.
Wasting time is not a condition for getting extra cash. While other financial entities require an endless amount of paperwork, Quick Cash Auto Loans offers a fast and easy way to get extra cash without delays. We are a consumer finance company devoted to helping people who want to avoid annoying application processes. Quick Cash Auto Loans offers immediate help to those who want to borrow against their car title.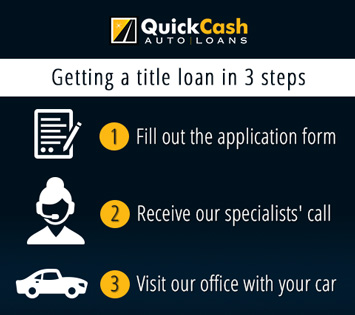 Only three steps separate you from getting a car title loan. First, you need to fill out the application form. It consists of direct questions about your personal information. After the form is filled out and submitted, an auto title loan specialist will contact you to agree on the terms and conditions of the car title loan. Finally, you will be asked to come to the office with your car, your title, and two bills to verify your address. All of our loans are based on cars' equity, therefore, our assessors will appraise your car to establish the amount of the loan. As soon as it is appraised and the amount is established, you are ready to cash your check.
This kind of financial help is very beneficial for anyone who needs extra cash. The first advantage is avoiding the long application process required by other financial entities, guaranteeing a quick transaction. In some cases, auto title loans can even be granted on the same day of the application. These loans accept almost any kind of car, as long as it is paid off. Plus, as the interest rates are charged monthly, if you pay your loan off in less than twelve months, no penalties will be charged. Additionally, your credit history and/or financial situation is not considered in any of the applications. And most importantly, Quick Cash Auto Loans allows you to drive your car while you pay the monthly installments.
If you live in Miami and need extra cash to fulfill your needs, our
Miami Auto Title Loans
are the answer. Don't hesitate to contact us! Call
(786) 600-3411
or fill out the form on our website. Find us on
Facebook at Quick Cash Auto Loans
, and on
Twitter @QCashAutoLoans
. Our specialists look forward to helping you.