Thanks to an Auto Title Loan, This Couple from Hialeah Was Able to Finally Start a Family
January 20, 2017

A young couple from Hialeah had the dream to start a family. They both came from big families and wanted to continue that tradition since they had always heard their parents talking about how fun it was to get the kids ready for school every morning and the chaotic yet beautiful Christmas mornings. The couple wanted to have many kids for all those reasons, but mostly because they felt that their siblings had been their strongest support system, and they wanted their children to have that same kind of support.
The couple had been trying to have a baby ever since they got married, but more than a year had passed without any results. They finally decided to go to the doctor, who told them that they needed to undergo a fertility treatment to be able to have children. It was a hard moment for them, but their strong desire to become parents helped them overcome the situation. They knew that they had to start the treatment as soon as possible since the chances of success become lower with age. However, the treatment was very expensive, and they didn't have the money to pay for it. The husband then turned to his father, who had worked in the used car business his entire life, to see how much money he could get for his car. His father told him that there were better options like car title loan companies, so they went online to look for
auto title loans in Hialeah
.
They found Quick Cash Auto Loans among the top results, visited our website, and after checking out the testimonials and watching some instructional videos, the husband decided to apply for one of our loans. So, he filled out the yellow form on our website with some basic information about himself and his car, and then he clicked the "Get Approved" button in hopes of getting an answer. Shortly after sending the form, he received a call from one of our auto title loan agents. Our client asked some questions about the process, which our agent kindly answered. He was very concerned about the time the process would take, the documents he would have to submit, and how his credit history would affect his loan approval, but our agent told him that the process was very fast and easy and that all the required documents were very easy to get. Also, she clarified that our company does not take a client's credit history into account when approving a loan. This information was enough to ease his worries.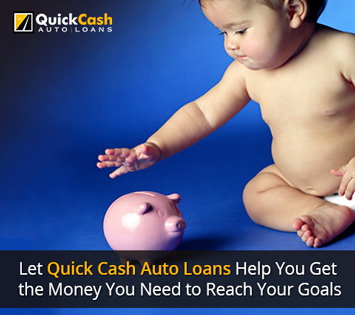 Our agent arranged an appointment at our loan office to assess the value of his car, set the amount of the loan, and receive the required documents. Before hanging up, our client asked if it was true that he could keep his car during the loan. The agent said that it was part of our policy – all our clients get to continue driving their car while paying back the loan.
On the day of the appointment, the client drove his car to our office, where we explained that he had twelve months to pay back the loan in the form of monthly installments. The client asked if it was possible to pay the total amount before the twelve months were over, and we told him that he could do so without paying any extra fees. When setting the loan amount, the client mentioned that he had read on our website that the maximum loan amount was $25,000, and he asked what was necessary to get that amount. So, the agent explained to him that we base all our loans on the 50% of the equity in our client's car. Therefore, his car would have to be worth $50,000. Just a moment after, the client found out that his car's value was very close to $50,000, which allowed him to get a higher loan amount. After agreeing to the terms and conditions, he left our office with the money. He was very happy since he and his wife would have more money available for the treatment, increasing their chances of getting positive results.
After some time, he called us saying that he was very happy – he told us that his wife was pregnant with twins! He thanked our company for the assistance we gave him and said that their dream of becoming parents had come true because he was able to quickly find the money for the treatment.
The entire Quick Cash Auto Loans team would like to congratulate this couple and wish them a lifetime of happiness. This is just one example of how an auto title loan can help you fulfill your dreams and achieve your goals. If you want to start your application process today, just fill out the form on this page or call
(786) 600-3411
. You can also find us on
Facebook as Quick Cash Auto Loans
, and follow us on
Twitter @QCashAutoLoans
and
Instagram @QuickCashAutoLoans
.