This Is How Car Title Loans Can Help You Keep Your Home in Good Condition
August 29, 2016

Homes are most people's pride and joy. So, homeowners take care of every detail to make their houses functional, as well as more attractive and cozy – they set and replace lamps, restore bathroom surfaces, paint walls, make sure that the piping and rain gutters work properly, and so forth. Every single item in a home should make it functional and beautiful at the same time. However, these repairs are not always inside the homeowner's budget, making them unaffordable.
Every home requires maintenance to keep it beautiful and in good condition. You have two choices – on one hand, you can apply a preventive maintenance method to protect your things from deterioration, and you can prepare a budget for these kind of expenses, so you'll be ready to hire a technician to fix it when the time comes. On the other hand, there is corrective maintenance, which is unexpected. Therefore, you can't budget it, and it is sometimes needed when you don't have money available for that. However,
car title loans
can help you keep your home as attractive and functional as possible.
Some things deteriorate faster than others. Pipes and rain gutters, for example, can crack as they age, causing floods in your home. These occasional leaks can lead to water damage to your walls and even to the foundation of your home, and the worst part is that pipes and rain gutters can break at the most unexpected time, putting your home at risk, especially during the rainy season. Car title loans allow you to borrow against your car's title, so you can get the money you need to make repairs before the rain causes damage to your home.
There are some frequently used items in every home. So, when important appliances such as washing machines or refrigerators break, you can't wait long to repair or replace them. Getting a car title loan can help you fix your appliances, and you can continue driving your car on your way to the supermarket or any other place, since you get to keep your vehicle for the extent of the loan.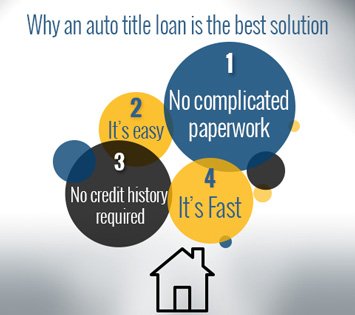 Also, some natural phenomena can cause certain incidents that might damage your home, especially its exterior. A very common consequence of a windy storm is a loose satellite TV antenna. Using your car's title to get a loan can help you relax and enjoy your satellite TV, while you pay the loan with monthly interest rates as low as 1.50%.
These kind of loans are based on the equity in your vehicle. Therefore, no credit history is required. Whether you have bad credit, good credit, or no credit at all, if you have a car and its title, you're eligible for a loan approval. Getting an auto title loan can help you keep your home in the best condition possible. From a refrigerator to a new plant for your garden, you can spend the money on anything you want for your home.
At Quick Cash Auto Loans, we understand what emergency repairs imply, so we won't waste your time. Our application process is very simple and fast. Just fill out the application form on our website, and one of our specialists will contact you to set up an appointment at our office. We will ask you to bring your car, and after we assess it, you will be able to walk out with both your loan and your car.
For further information, please fill out the application form below or call
(786) 600-3411
. Our assessors are looking forward to assisting you. Find us on
Facebook at Quick Cash Auto Loans
, and follow us on
Twitter @QCashAutoLoans
and
Instagram @QuickCashAutoLoans
.