Worried About a Bad Credit Score? Auto Title Loans Can Help You Solve That Problem
October 20, 2016

The digital era has allowed people to get any item without having to leave their homes – from nail polish to art pieces, everything is available online. That reality can explain why credit cards have flooded the market, as it is the most common way to pay online. However, having limitless purchasing options can spark the desire in you to compulsively buy until you go over your credit card's limit.
Another reason that can lead you to exceed your credit card limit is when you face difficult financial times. However, regardless of the origin of the debt, it is very important to pay credit cards on time, as they are one of the standards that banking institutions use to measure a consumer's ability to pay. For this reason, overlooking debts can directly impact your credit score, which might lead to a negative financial effect in your future housing and employment options. Despite how hard it is to pay this debt, a paid-off credit card can come in handy in case of emergency. Moreover, paying your credit card is not as impossible as it may seem since
auto title loans
have become a popular solution for this kind of situation in recent years.
Many people have exhausted the resource of requesting loans at traditional finance institutions, as those processes take too long. On the other hand, car title loan agencies represent a fast financial solution, which allows you to solve your monetary troubles in the least amount of time. Also, most car title loan agencies have websites that grant you the possibility to start your loan process online without any delay.
We've all gone through financial difficulties that can force us to overlook our credit card payment's due date. However, skipping credit card payments can increase your debt due to accumulating interest rates. Struggling to pay that debt could even cause anxiety and frustration. The worst part is that banking institutions start releasing negative statements that go straight to your credit file, which can drastically affect your credit score. In order to stop those statements from piling up, you need to pay off your whole credit card debt or at least start paying it to decrease the interest rate and make a payment agreement.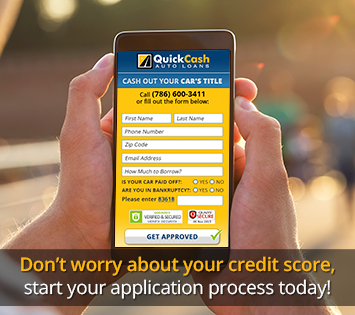 Getting a loan seems like the only way out of debt, but traditional banking institutions will take your credit reports into consideration, and a bad credit score will definitely lower your chances of getting a loan. In contrast, most auto title loan companies don't require their clients' credit history. Using your car as collateral is a safe and easy way to pay your credit card debt and keep an impeccable credit history. A plus side to getting an auto title loan is that most agencies accept all makes and models. So, you can start your loan application just by owning a car and its title.
If you live in Hialeah or surrounding areas and need extra money to pay your credit card debt, Quick Cash Auto Loans is perfect for you! We can lend you up to $25,000 of the equity in your car. Just fill out our application form, and our specialists will immediately contact you to set up an appointment at our office to assess your car and set the amount of the loan – that's it! You'll be ready to get the money you need. For more information about our services, fill out the form on this page, or call
(786) 600-3411
and start your application process today! Our specialists will gladly help you. Find us on
Facebook at Quick Cash Auto Loans
, and follow us on
Twitter @QCashAutoLoans
, and on
Instagram @QuickCashAutoLoans
.