A Car Title Loan Enabled This Miami College Student to Pay Her Tuition
February 02, 2017

Most people are well aware that getting higher education in the US is very expensive and in some cases, unaffordable. It is common for parents to start saving money once their children are born, in the hopes of having saved enough by the time their children apply for college. The truth is, most students must find alternative ways to finance their studies after high school. This was the case for a young student from Miami whose dream was to become a dentist. She knew it was an expensive major and even with her parents' financial support, she would have to find another way to pay her tuition. She then came up with a plan that could help her reach her final goal – she thought about getting an associate's degree in dental hygiene at college first, so she could get a job and be able to afford further studies.
Even though the girl's parents were willing to help her out with a part of her college tuition, she was planning on pawning her car so she could start college right after graduating from high school. Fortunately, her boyfriend, who was also looking for extra money to pay his own tuition, told her he had seen a post on Facebook about a company – Quick Cash Auto Loans – that offered
car title loans in Miami
. In his opinion, it seemed like a better option, since the post said that clients could continue driving their cars while paying back the loan. The girl took much interest in the idea and after checking out our profile on Facebook, she visited our website to find out more about us. She made up her mind and filled out the application form after watching some testimonials from our past clients.
Shortly after sending out the loan application, one of our car title loan experts got in touch with her to verify her personal information and answer any questions. Impressed by how fast she received a reply, she eagerly began asking questions about the process, which our loan agent patiently answered. She apologized for asking so many questions, but our agent told her that it was normal for people to have many doubts when they apply for their first car title loan.
The first question she asked had to do with the information she had seen on our website about being able to keep the car for the duration of the loan. Our agent told her that this information was correct. The agent also explained that our loans could be paid in a twelve-month period with no pre-payment fees, so she was free to pay back the entire loan amount at any time during that period. The student was relieved that she would be able to use her car as transportation for college. Another big concern she had involved her credit history; she was aware of the fact that having a strong credit history was crucial to getting a loan at banking institutions. She was glad to learn that our company didn't require any credit history.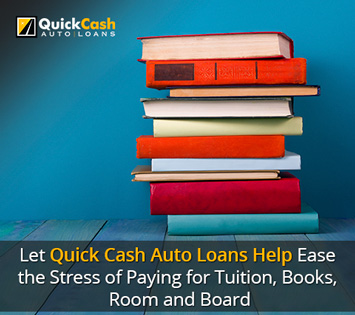 During the call, our agent set up an appointment to assess the car and determine the value of the vehicle and the amount of the loan. He told our client that she needed to bring some documents to the appointment. The girl put pen to paper to write down the list of requirements. She thought that she would have to write down a long list of documents that are hard to obtain, but she soon realized that only a few documents were required and that they were easily accessible.
On the day of the appointment, she drove her car to our loan office and submitted the documents. The agent approved the loan and set the amount. The client agreed to the terms and conditions and left our office with her car and the money she needed to pay her tuition on time.
Days later, the client called our office to thank us for making the process so simple and allowing her to get the money she needed so quickly. The speed of the process had allowed her to pay her tuition just in time to start college that same year. She was very happy and grateful and said that she was going to recommend us to anyone who was in a similar situation!
The entire Quick Cash Auto Loans team would like to encourage this college student to pursue her dreams and work towards her goals every day, and we wish her a successful career. This is just one example of how a car title loan can help you fulfill your dreams and achieve your goals. If you want to start your application process today, just fill out the form on this page or call
(786) 600-3411
. You can also find us on
Facebook as Quick Cash Auto Loans
, and follow us on
Twitter @QCashAutoLoans
and
Instagram @QuickCashAutoLoans
.