A Car Title Loan Helped This Man in Miami Plan the Marriage Proposal of His Dreams
January 12, 2017

Marriage: exciting, sweet, redemptive, and undoubtedly a major step for all couples. It completely changes one's daily routine. The jumping-off point to this new beginning is the marriage proposal. Men are notoriously known for avoiding nearly all of the wedding planning stages, however, they generally have the responsibility of preparing a picture-perfect setting for the big 'YES!' It is a part of the marriage tradition that has been passed down from generation to generation, all starting with the search for the perfect ring. After finding the ring, which some men would say is the key to confidence in popping the question, the proposal planning begins. The pressure of mustering enough money, creativity and originality all to please their soon-to-be fiancée (optimistically), can sometimes be too much to handle.
That was the case for a young man from Miami who wanted to take the next step and prepare this grand gesture for his girlfriend. However, he couldn't come up with a clear idea of what he wanted to do because of his tight budget. As any young man with this dilemma would do, he turned to his dad for advice. He asked his dad how he had proposed to his mother 30 years ago, where it happened and how she reacted… thinking he could incorporate some of these ideas into his own proposal. His dad told him that he wanted to propose to his mother on a beach at sundown with live music in the background, but he didn't have enough money to pay for the ring, the trip, and the musicians. So he decided to sell his car to be able to pay for it all. His eyes lit up as he explained that her reaction was absolutely worth it. That gave the young man the idea of selling his own car, but his father then suggested using a company that offers
car title loans in Miami
.
His father told him to ask their neighbor for a good loan agency, as he had worked in the automotive industry for years and was an expert in vehicle valuation. His neighbor was happy to help and immediately recommended Quick Cash Auto Loans. He also told him that we base the loan amount on the 50% of the car's total value and that our clients are allowed to keep their car while they pay back the loan.
Still not knowing exactly what he wanted to do for his proposal, he knew it involved travelling. He anxiously went online and filled out the application right away. He was pleasantly surprised when he was contacted by one of our loan experts. The specialist requested some easily accessible documents to verify personal information and arranged an appointment at our office, where the car would be assessed and the documents submitted.
During the call, the man asked if his credit history would be taken into consideration for a loan approval, but our expert informed him that our company doesn't look at credit scores, since our loans are based on the value of the car, the employment status and residence history of our applicants. Therefore making our loan application process simpler than those at other financial institutions.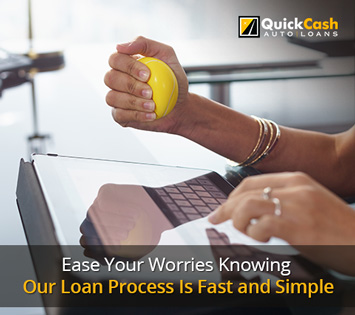 On the day of his appointment, the young man was extremely pleased by how fast and easy the whole process had gone so far. He was happy to think that he would be able to organize the proposal even sooner than expected. He submitted the necessary documents, and his car was assessed. One of our specialists explained to him that he would have a twelve-month period to pay back the loan and that the annual percentage rate (APR) would be divided into monthly installments. The loan expert also explained that this company keeps close communication with customers, so our team would be in touch with him to guarantee the flow of the payment process, and he could feel free to contact us if he had questions, payment issues, or referrals; our specialists would be available to help him throughout the entire process.
After asking all the possible questions he could think of and agreeing to the terms and conditions, the new customer received his loan and left our office with his car the same day. He was thrilled thinking he could finally be able to fulfill his plans for the perfect proposal. All of his ideas seemed achievable now. However, a clear memory popped in his head of his girlfriend talking passionately about the northern lights. She had wanted to see them ever since she was a little girl but had never had the opportunity. He thought that it would be perfect for the proposal, especially since they both loved cold weather. And let's face it… what could be more romantic than a proposal surrounded by the majestic northern lights?
He purchased the perfect ring with the help of his father and he bought it the day after getting his loan. It was beautiful and sophisticated, just like his girlfriend. He knew she would love it! He then began to search for trips to Alaska, which was the closest place where they could see the beautiful northern lights. He searched cruises, flights, hotels, guided tours, the best time of the year to go, and even what to pack. He decided on a cruise to Ketchikan and a guided tour to Fairbanks, the most recommended spot to see the northern lights.
Some weeks later, he called to thank the team for their assistance and patience in answering his questions. He said the proposal was a success and that it was the most wonderful experience they had ever had. He also added that his girlfriend absolutely loved the ring. She was completely surprised and moved by the gesture and they both enjoyed every minute of the memorable trip. He started getting emotional while telling the story and he mentioned that they got to see the northern lights on the first day of their stay in Fairbanks.
This young man's successful marriage proposal is just one example of how a car title loan can help you fulfill your personal goals and you're able to spend the money we lend however you want. If you'd like to start your application process today, just fill out the form on this page or call
(786) 600-3411
. You can also find us on
Facebook as Quick Cash Auto Loans
, and follow us on
Twitter @QCashAutoLoans
and
Instagram @QuickCashAutoLoans
.