Planning a Wedding? Need Extra Cash? An Auto Title Loan Is Your Solution
September 07, 2016

Many women prepare their whole lives for the most romantic day, a day they have dreamt of since they were little girls playing dress up – their wedding day. Everybody knows how important and memorable a wedding day is. Brides long for every single detail they have envisioned to materialize, expecting to have the wedding they have imagined for years.
Tons of traditions surround weddings. However, one of the most common ones is that the bride's father has to pay for the entire celebration. Some of them open bank accounts from the time their daughters are born, expecting to have saved enough money by the time the big day arrives. Tight budgets add stress to any wedding plan, even more so when brides keep adding more things to their list of details. Therefore, people look for different solutions to ease the stress of paying for a wedding, such as getting an
auto title loan
. This kind of loan can help you achieve your dream wedding without the stress of going over budget.
Weddings are big events that include a large number of people. This is why planning a wedding requires a high level of attention to detail. Keeping your head cool seems very difficult on such a stressful occasion. Furthermore, finding reliable catering, decorations, music, and lighting services, among other things, demands a lot of time and contacts. It seems pretty reasonable to hire a wedding planner – even though it's quite expensive – who will make sure that everything is perfect on your big day. Some brides think of borrowing against their car's title to get the money they need, which seems like a great idea if you consider that you can continue driving your car for the extent of the loan.
Getting a car title loan has many benefits for brides. For example, they could pay for the dream venue they have envisioned for such a big event. Choosing the right place is crucial to have the kind of wedding you've always wanted. Nevertheless, it is hard to match price, size, and style. Still, planning your wedding is a once-in-a-lifetime opportunity, so restraining yourself from having the kind of wedding you want is not an option. Moreover, some auto title loans can be paid within a twelve-month period, so you can enjoy your day without having to worry about stressful debts.
Another major detail that needs your attention and a flexible budget is the honeymoon trip. There are myriad places that can appeal to you for such an important trip. Whether you are romantic or adventurous, there are endless possibilities, from a bonfire by the beach to zip-lining through a canopy in the rainforest. Choosing the right honeymoon destination will help you build beautiful memories that will last for the rest of your life. Fortunately, an auto title loan can help you start off your marriage with this important trip, since you can get up to 50% of the equity in your car. These loans allow you to pay in monthly installments, with an interest rate as low as 1.50%.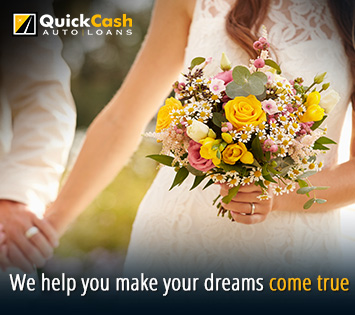 Time is also tight when planning a wedding, which is why getting an auto title loan is the best solution. The application process is fast and simple, and your financial situation is not taken into consideration. Also, you can spend the money however you want.
At Quick Cash Auto Loans, we are ready to help you make your dreams come true. Our application process is very simple. Just fill out the form on our website to arrange a meeting with one of our specialists to get your car inspected, and that's it! You can get the money you need. We accept all makes and models, and we don't need your credit history. As long as you own a car, you're eligible for a loan approval.
If you're planning a wedding and need extra cash, Quick Cash Auto Loans is the right choice for you. We are a leading consumer finance company dedicated to helping people like you every day. For further information, fill out the form below or call
(786) 600-3411
. We will gladly help you! Find us on
Facebook at Quick Cash Auto Loans
, and follow us on
Twitter @QCashAutoLoans
and
Instagram @QuickCashAutoLoans
.